Soft Fantasies: Pawvard Legacy
A downloadable game for Windows and Linux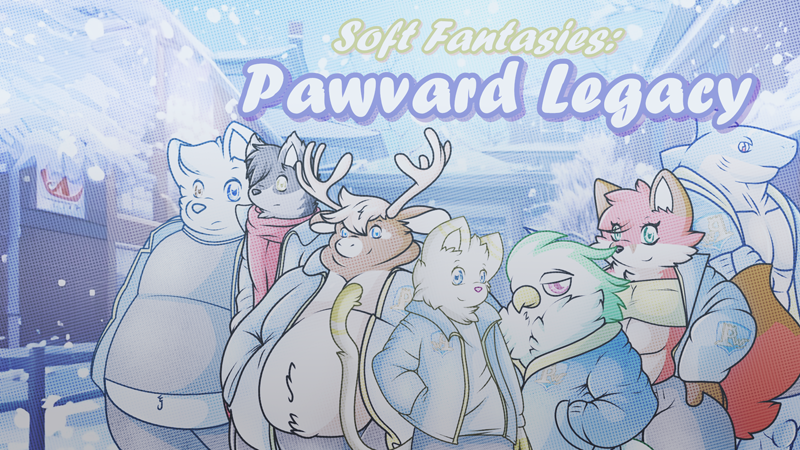 Soft Fantasies: Pawvard Legacy is a furry visual novel, intended for adults.
This is an indirect sequel of Soft Fantasies visual novel, It is still a prototype.
This VM will be focused on telling you a story with some mysteries and won't be just focused in weight gain (Like the previous game).
Even so, this VN has a toggeable SFW or NSFW option since the beggining of each new game, and if you play in NSFW, it will show various and differents kinks, yes, including WG ~.
Note: You can choose English or Spanish language at the options/opciones menu
Link to my patreon: https://www.patreon.com/Ziul_Walls
Link to join to our discord server: https://discord.gg/peVPQmM


** Android and WEB versions will be also abailable on future updates **

Download
Click download now to get access to the following files:
SoftFantasiesPawvardLegacy-0.1-pc.zip
295 MB
Comments
Log in with itch.io to leave a comment.
I hope the web version comes out, your work is incredible, keep it up
i like your work zuil(sorry if i wrote your name wrong) i wanted to see a sequal to soft fantasies and i wanted you to make the Pi path when you choose at the end keep up the good work. i like how you made this game in like 8 years in the future from soft fantasies. i saw coops.
WOAH me encanto esta pequeña "probada" de este juego, se ve que tiene potencial, ademas que me gusto mucho el cameo de coops en el juego, hay dios crecen tan rapido :,3
sin duda un muy buen trabajo que llevas Ziul, te deseo suerte con este proyecto, saludos desde Mexico :3
Muchas gracias por tu lindo comentario! En verdad lo aprecio :3
no tienes porque agradecer, todos los juegos que has hecho, soft fantasies, feed battle, entre otros los has hecho con arduo trabajo y esfuerzo con tal de hacer al publico feliz con ese entretenimiento, sin duda tu tienes un gran talento por descubrir en el futuro y aqui estare para poyarte en lo que venga
Ziul, congratulations on the new story!!!! I still do not have favorites (but I confess that I like the mammals more then the other two... sorry)... Looking foward to play it, although I am already missing the other characthers specially Zac, Oken and Lacky... Zac is too funny, Oken too cute and Lacky is adorable... I hope they return in another game in the future!
what about Ian the tanuki
I like them all but that was my top 3... what is yours?
I'm not 100% sure about the ai generated backgrounds but other than that its amazing

A poll was made about it on my patreon and discord. the vast majority (80%+) said they were fine if only backgrounds were generated by AI
Already impressed with what I see so far. The characters are interesting. Some more than others but I imagine we'll learn more about each one individually depending on our choices. The setting is Gorgeous. the music and environment are a very welcome change from the the first game. Excited to see what they have in store.