Match'fur Battle V 0.0.4 DevLog
---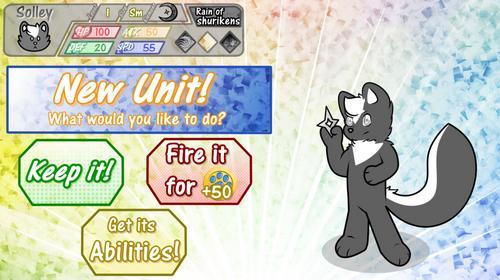 Changelog:
- 3 new playable characters were added!
- 3 new passive skills were added to the game along with the new units
- 3 new enemies were added
- 2 new enemies passsives were added.
- Now you can decide what to do with new units! (Keep it, fire it or get its abilities)
- "Charm" ability now only works then tokens are poofed by matching and not by other effects (Like "Charm") To avoid loops.
- Now a "dramatic" song will play while one of your units has low HP, also it will be blinking in red.
- Now dealing or receiving "0" damage will play a "block" sound.
- Chances of getting diamonds were changed from 25% to 15% per each item the chest spawns. (And this will be nerfed even more in the future)
- Added an "Assited" view mode, in order to make easier to difference tokens beetwen them
- Added a display on pause menu to see the elemental effectiveness.

Bug fixes:
- Ian now will give correctly "Power bomb" instead of "Charm" when getting its abilities.
- Now enemie's attacks will stop while you are using an special ability.
- Now you can't use special abilities while the board is reseting.


Files
Match'fur Battle 0.0.4.zip
119 MB
Apr 03, 2022