Match'fur Battle V 0.0.5 DevLog
---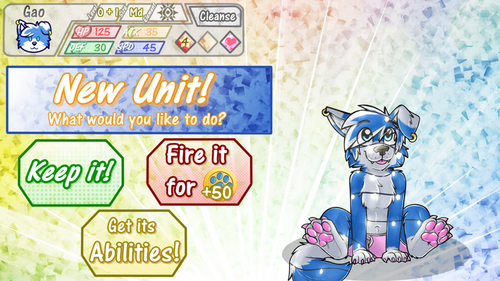 Changelog:
- 4 New playable character can be "Hired" ~
- 3 New unit's passives were added to the game.
- Now you can Set up to 5 different teams.
- Practice mode now have 3 difficulties. "Easy" "Normal" and "Hard"
- Now enemies also have levels, they are stronger the higher their levels are.
- In "Hard practice" Every enemy will have higher levels and 2 random passives of all that currently exists.
- Fixed "Size" of some BIG characters to appear now at their exact size.
- Added new sounds and displays to characters to notice easier when they specials are ready.
- Added new BGM to menus, also a new BGR to the "Hiring" units.
- 2 new enemies were added to the game.
- 2 new enemy passives has been added to the game.

Bug fixes:
- "Quad Force" passive now won't be activated while matching differents units in the same row.
- Now when you click "Go to the next level" or "return to main menu" While coins and diamons are on-screen they will automatically collected

Balance Changes:
- Solley super attack "Rain of shurikens" Now deals Solley's current ATK instead of 30 fixed damage.
- "Power bomb" passive changed their price to $140 instead of $55