Match'fur Battle V 0.0.6 DevLog
---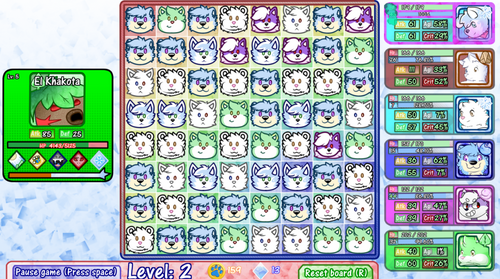 Changelog:

- New mechanics were added to the game! Now every characters have new stats, "Magic, Agility and Critical", Magic is what the previous "speed" was, determines how fast the mana bar will fill, Agility is the probability of dodging enemy attacks, and Critical is the probability of dealing critial damage!!!
- So, because of that, I changed and re-balanced a lot of passives, so please, read them again before you play in-game
- New "Unique passive" skills were added for every character! Hoover the mouse over the character's Token icon to read what are their unique skills!

- Now you are able to use 6 characters per team instead of 7, this is to balance the new things I added.
- Re-balanced the game difficulty, now it is harder tan before due new stats. So now deppends on how good are you making teams to beat them all ~
- Boss figths are now coded! And we have one on this update. Each 5 levels you will encounter the first boss, "El Khakota" Good luck beating him!
- A los of aesthetic things were changed, you will notice in game when playing ~
- Some bugs were fixed, and probably other bugs were born with this new update ;u;
Files
Match'fur Battle 0.6.zip
May 10, 2022